/ About Queserser


Centered on people, we create new, stimulating forms of value. 
This is the strategic concept expressed in our company motto "Centered on Human Beings" 
as well as the basic stance from which we approach all our clients' projects. 
As an organization, we constantly challenge ourselves in new arenas and are always looking for new ways to grow and evolve.

Queserser is a company that works to advance business value. We provide companies and organizations with the knowhow and resources necessary for new business activities.
Materializing value through products and their production, we support communication development and deliver the information best suited to the wants and needs of ordinary citizens.
Through the support of new and existing businesses and the energy resulting from this, we help contribute to local society. It is our mission, then, to turn the happiness of individuals into the happiness of society.
To achieve this, it is necessary to have a strategic framework for effectively determining the business strategies that derive from each project's core theme. This mainly consists of planning and carrying out various measures based on a 3-axis approach of "market," "product" and "media." Within this, the formation and management of a project team is especially important.
We organize and coordinate the most appropriate individuals to carry out this planning and produce new ventures for actualizing these new, strategically-oriented businesses. With our clients, we create the new value and resources that connect us to the future.



By narrowing down the target market and audience, we clearly identify topics of strategic importance and work at secure market formation.
 We conduct surveys and research in order to gain the market information most relevant to the business's objectives.
 With this analytical information, we then establish direction for the business's activities and realize concrete principles for commercialization and development as well as strategies for entering the market.

We work to create and develop basic goods and services that are most relevant to today's societies and consumers. By organizing market information and the conditions of business and market environment, we establish a concept and product and, after verifying and confirming a business's potential, create products with both tangible and intangible value.

We accurately transmit value and information to the target market/consumer on the goods and services created and develop original media from the people and spaces required in this application.
 By building integrated systems, we carry out accurate and effective communication with a distinct identity and design.

We at Queserser work to promote business value that provides clients with meaningful support and meets the diversified, complex, and specialized needs of businesses today. 
We accurately establish a specific business strategy for each project and, organically connecting what we know with who we know (our human network), provide the strategies and tactics most suitable
 for promoting the business.
Below is one example of this process.
At the strategic planning stage, we start by clarifying a business and management strategy and set an 
objective/purpose according to each project's theme.
 We then decide on a strategic plan based on the analysis and establishment of content and
 the approved budget. 
 Next is the management stage where we build the necessary networks for promoting the project, give it form and carry out various adjustments related to its direction/
implementation. This is followed by the operation stage where all aspects of the promotion process are 
effectively pursued.
At the base of these activities is a strategy implementation system that brings together a strategic framework of value creation from the above "Segment Market" "Basic Product," and "Application Media" according to each project's needs.
Through substantive projects whose function is to bring life to the activities of human networks and realize the creation of information with value, we provide new potential to our promotion of business value.


Our MPM system ("Market" "Product" "Media") is a moving body which generates profit through the new value 
created by a 3-dimensional structure whose boundaries are connected via human networks. The 
business activities for each project are essentially carried out by the work unit
s comprising each of the axis's structure.
 This allows each work unit to link together and flexibly respond to the project even when the business's objectives, themes and activities change.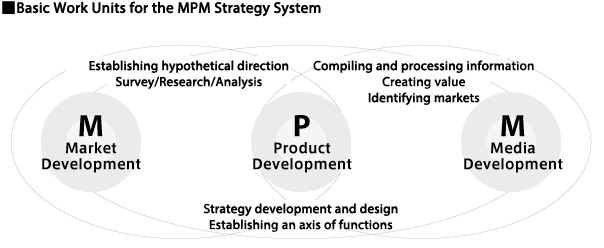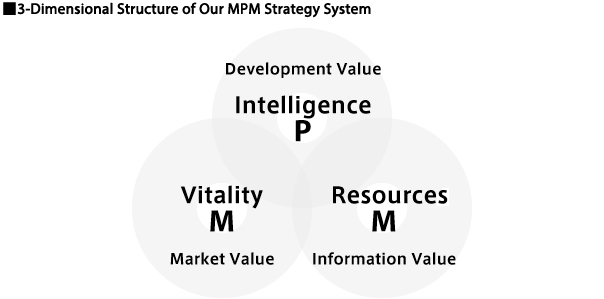 In increasingly sophisticated information societies, it is essential that those who provide
 goods and services work to deliver quality information while at the same time actively creating information of value to the current generation. 
To accomplish this, a high degree of planning and strategic implementation is required.
 We do not simply aim to transmit information to markets through conventional methods of mass dissemination 
but instead work to promote business value that targets specific market segments.
We believe that information on personal wants which has been omitted up until now will go on to become the information of truly substantive marketing and feel that our human network will provide the base for planning that strategically creates information leading to new value.
We assign the individuals necessary to undertake a project along the 3 axes of our strategic framework – Market, 
Product and Media - and strategically formulate a human network to generate information with value.
This network not only collects information but also creates value for it, and additionally possesses the function for producing goods and services. A market in and of itself, it helps transfer information between individuals and also serves as a living network firmly focused on the future.


A network of creative staff within Queserser.


Projects are comprised of designers, programmers, creative directors and supporting staff known as 'volante.'

A network of local residents and citizens in the target market.


This consists of a network of opinion leaders and other individuals in target markets who survey and collect regional and lifestyle-related information as well as carry out associated R&D activities. Through the work of our life network we also contribute to market formation.

A network of professionals in various fields who provide the resources for projects.


Client projects are coordinated by a team of professionals consisting of consultants, tax accountants, certified public accountants, lawyers, marketers, system engineers, digital operators, design/construction professionals, landscape architects and engineers from various fields.

A network of intellectual resources and specialized skills mobilized according to project theme


Through a network of domestic and international cameramen, artists, TV personalities, urban planners, architects and various other creators, we coordinate projects from a global perspective.

A network of authorities in various industries and fields to strengthen our investigative and research activities


We help organize committees of leaders, academics, cultural figures and researchers in a variety of fields.

As of July 2016
Market
Management & Design
Marketing
Research
Scenario Planning
New Market Development
Product
Management & Design
CI / BI Development
Product Naming
Package Design
Shop Design
Office Design
Spatial Design
Business Development
Intercommunication Design
New Product Development
Media
Management & Design
Full-service Advertising
WEB Design
Graphic Design
Event Planning
Content Development
Promotions
New Media Development
Communication Tool Development
Zone Media Development
Technical Skill & Development Overview
System Design
Requirements Analysis / Workflow Design
Requirements Definition / Structure Design
Interface / Usability Design
Program Implementation
Development Methods
Fully-customized development from scratch
Customized development using open source software
Projects
Web Content Management Systems
ERP Systems for Orders / Sales / Client Management
Corporate Intranet Systems
E-commerce Systems
Development Environment
OS: FreeBSD, Windows, Solaris, Android, HP-UX, AIX, RedHat, etc.
Databases: Oracle, MySQL, PostgresSQL, MS-SQL, and various RDBMS
Web Servers: Apache, IIS
Programming Languages: PHP, Java, C#, Objective-C, C++